Reindeer hunting in Greenland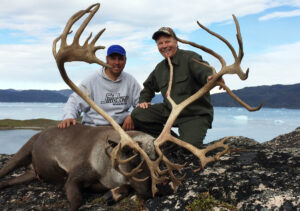 The Reindeer in South – Greenland are a mixture of the original Greenland Caribou and Reindeer that were imported from Norway around 1900. By SCI they are categorised as "Reindeer introduced" for North-America.
We offer summer and fall hunting only in South – Greenland. All travel goes via Iceland and staying overnight in Iceland is often necessary.  We offer 6-7 days trips with 2-5 hunting days, depending on the number of hunters. Our area is the only one in Greenland, producing SCI gold medal trophies.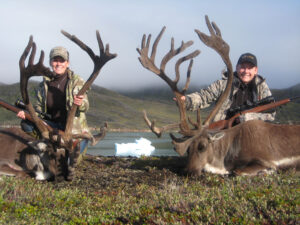 The Hunt
We scout for trophies by sailing along the coast in a 30-40 feet boat with a warm and comfortable cabin. When a trophy is spotted, we go to shore in a smaller open boat, to stalk and further evaluate the trophy. This is repeated until we have found a good old trophy bull that the client is happy with.
There are both steep and flat coastal areas.  Hunters can most often choose how hard terrain they want to deal with. We are the only outfitter in Greenland, working in an area, where you do not nesseccarily have to be very fit and walk your ass off.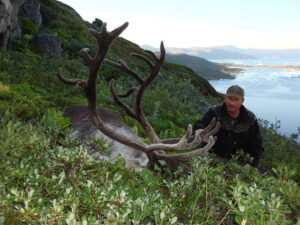 Season
Reindeer hunting August 1st – September 20th
Food & Accommodation
We operate both from our lodge in Ivituut and Narsaq, when doing Reindeer hunts. You may also stay a night at Hotel Narsarsuaq. We offer the most comfortable lodging and dining in the world, in the middle of a Reindeer hunting area. Our lodge has electricity and hot and cold running water. Upstairs there are 4 rooms for our guests and downstairs large dining and living room and fully furnished kitchen. Our lodge offers almost all comforts you can think of, as in your own home. No tent camps, no outdoor toilets. We offer 3 meals per day, snacks, soft drinks. We try to fulfill our clients wishes if they want to taste Reindeer. When staying at Hotel Narsaq or/and Hotel Narsarsuaq, the accommodation and meals are at the cost of the hunter/non hunter.
Other activities
After trophies have been harvested our duties for activities end. We can arrange sightseeing, sea angling or fishing for Arctic char if hunters wish, at an additional charge.
Please send us an email for more details and prices.